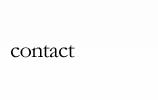 Sylvia Rota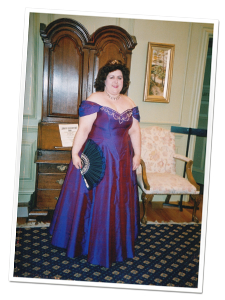 Sylvia has attended many vocal workshops, including one with Alison Pearce, Professor of the Royal Academy of Music, London. She has sung at the Theatre Royal, Portsmouth and has performed in several concerts throughout the area with 'Opera et Cetera'.
Sylvia took part in the 2002, 2003 and 2005 Ardingly International Summer School where she studied opera, lieder and oratorio with the late Paul Hamburger, Brian Mackay, Pat McMahon (Scottish Academy of Music), and Theresa Goble. In 2002 she studied singing in Austria with the late Paul Hamburger and Siegrun Quetes, Theatre an der Wein, Austria. She worked with Operafesta, Oxfordshire, alongside Quentin Hayes from the Royal Opera House, 2004, and has taken part in vocal workshops with London Opera Vocal. Sylvia currently continues to study with Peter Knapp and Susan Stacey of the Royal Opera House, English National Opera and opera houses worldwide.
Sylvia's repertoire includes opera, light opera, lieder, oratorio, classical song and light music. She specialises in coloratura singing.
Engagements have included a Wagner concert in Chichester Cathedral where she sang arias from 'Tannhauser' and the Wesendonk Lieder. More recently she has sung with 'The Spaghetti Opera Company' in Brighton, and opera and light music in various other restaurants. Recent engagements have included singing Mozart's 'Alleluia' for the Six Villages Choir at the United Reform Church, Bognor Regis. She has also performed the roles of Anna Bolena in scenes of Donizetti's opera of that name, Amelia in Verdi's 'Simon Boccanegra', Matilda in Rossini's 'Guillaume Tell' and Aanchen in Webers 'Der Freischutz'.
Sylvia teaches piano, violin and singing privately, this includes adult vocal workshops.
She currently combines her own busy performance schedule with that of her singing partnership with Michael Gennings under the title of 'Siciliana', singing for private functions and formal occasions.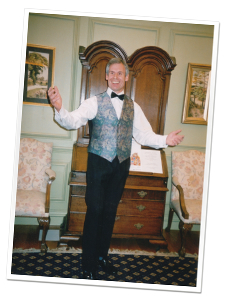 Michael Gennings
Michael has sung in numerous musicals, and choral parts in operas, including `Manon Lescaut' at the Theatre Royal, Portsmouth. He has recently worked with the late Paul Hamburger, both in Vienna and at Ardingly. Also with Robin Martin Oliver, Peter Knapp, Susan Legg and Martin Elliott. He took part in the Ardingly International summer school 2002 and 2003. Recent engagements include singing the part of Hunding in Wagner's 'Die Walküre' in Chichester Cathedral, Aeneas in 'Dido and Aeneas', choral parts in 'La Bohème' and various arias in 'The Spaghetti Opera'.
His repertoire ranges from opera and English song through to big band and swing music. With a colleague he now sings in Siciliana', performing classical and show songs in various venues around the south of England.
Michael specialises in the genre of 'The Rat Pack' era, which also includes Nat `King' Cole, Matt Munro, etc.